Are you planning a trip to Columbia, the capital of South Carolina? Whether you are traveling for business, for pleasure, for a girls' (or guys') weekend away, or for a vacation with your little ones, there's plenty to do in this part of the Palmetto State. One of your first considerations will be which hotel to book, and we've done some of the legwork for you.
We have looked at dozens of hotels in Columbia, South Carolina and have chosen the ones that might be the right fit for you. We considered their location, how past visitors have rated their cleanliness and services, the amenities, and the features that make the hotels friendly to pets, families, or business travelers.
Hilton Columbia Center Hotel
An excellent location and all of the amenities you'd expect from Hilton make this a perfect pick for your trip to Columbia, SC.
Check Price
The Hilton Columbia Center Hotel made our top pick of hotels in Columbia, SC. Its location in the historic district of the city and its proximity to the University of South Carolina and the Columbia Metropolitan Convention Center make it a great choice for vacationers, those looking at the university, and business travelers. The rooms are over-sized and include several nice amenities, including free WiFi, a saltwater pool, a full business center, and a concierge.
The Best Hotels in Columbia, South Carolina
*Ratings from Google are accurate at the time of publication and may change.
Our Top Pick: Hilton Columbia Center Hotel
The Hilton Columbia Center Hotel is our top pick for all travelers headed to Columbia. You won't necessarily need a car, because the hotel is within walking distance to many restaurants and shops as well as to the amenities of the historic district. Good for both families and business travelers, it is also a block away from the convention center and a couple of blocks from the Vista.
The rooms have floor-to-ceiling windows, some of them with great views of the city. The WiFi is free, as is the daily newspaper. You will also be able to take advantage of room service. Ruth's Chris Steak House is attached to the hotel and offers luxurious steakhouse meals; you can also book a private dining room if you are hosting an event. There is a business center for those traveling for work, and you'll be able to unwind in the saltwater pool and the fitness room. The accessibility, a multi-lingual staff, and parking garage make your visit convenient in various circumstances.
Hilton Columbia Center Hotel Key Features:
Within walking distance to many attractions
Floor-to-ceiling windows
Suites available
Roll-away beds and cribs available
Pool
Fitness center
Parking garage
Our Runner Up Pick: Aloft Columbia Harbison
Aloft Columbia Harbison
This trendy hotel features southern charm, pet-friendliness, and an amazing location close to shopping.
Check Price
Aloft Columbia Harbison made our runner-up spot. Located right in the midst of the shopping action at Harbison Blvd and Columbiana Centre, you'll enjoy shopping, dining, and easy access to attractions such as Lake Murray and the Riverbanks Zoo. You'll also be close to downtown Columbia. If you're looking for nightlife, you'll be happy with the hotel's bar and pool room. There are other dining options, as well. Watch a game at the bar or on the patio.
The pool is seasonal and the free WiFi is high-speed. The television in each room can stream Netflix, which you'll enjoy watching while longing on your comfortable bed. The hotel allows pets. There is also a walk-in shower in each room to make life a bit more luxurious. Choose from rooms with one king bed, two queen beds, or one king and one pull-out sofa.
Aloft Columbia Harbison Key Features:
Close to amenities
Trendy bar onsite
Other dining options including breakfast
Seasonal pool
Pet-friendly
Various room configurations available
Best Budget Pick: Candlewood Suites Columbia-Ft. Jackson
Candlewood Suites Columbia-Ft. Jackson
Every suite includes a kitchenette, making this a great deal for budget-conscious travelers.
Check Price
Candlewood Suites Columbia-Ft. Jackson made our top spot among the budget hotels in the area. Every room you book is actually a suite; choose from a studio, a two-bed, or a one-bedroom/one-bed suite. Each suite contains a kitchenette that is appointed with a stove, refrigerator, microwave, pots and pans, dishwasher, and everything else you'd expect in a basic kitchen. This means that in addition to saving money on the room itself, you'll also save money if you decide to simply go grocery shopping and prepare some or all of your own meals. At the very least, you can bring back leftovers and warm them up in the microwave for later enjoyment.
This hotel is a bit off the beaten path and is located in a suburban area about 8 miles from the city center. Amenities include free WiFi, a fitness center, a business center, a self-service laundry facility, a pool, and a store that is open 24 hours per day with food and other small items.
Candlewood Suites Columbia-Ft. Jackson Key Features:
All-suite hotel
Includes a kitchen
Located 8 miles from the city center
Laundry facilities
Best Hotel for Families: Hyatt Place Columbia/Downtown/The Vista
Hyatt Place Columbia/Downtown/The Vista
Family-friendly suites located in the heart of the arts district.
Check Price
If you are traveling with your children, our top pick for you is the Hyatt Place Columbia/Downtown/The Vista. It's location is great for families; you can walk to various attractions in the arts and entertainment district, so no need to worry about renting a car or toting along a car seat for little ones.
Every room at the Hyatt Place includes beds and a pull-out sofa, making it easy for your family to spread out. There is a separate sitting area that allows you to put children to bed and still sit up and watch television or get some work done on the other side of the room. Suites include a kitchenette with a kitchen and microwave. There is a full breakfast buffet available that includes eggs, oatmeal, sausage, bacon, yogurt, baked goods, and more; in addition, there is a menu available 24/7 for hunger pangs that occur any time of the day or night.
Hyatt Place Columbia/Downtown/The Vista Key Features:
Great location
Suites with a separate sitting area
Some include kitchenettes
Full breakfast buffet
24/7 menu available
Best Boutique Hotel: Hotel Trundle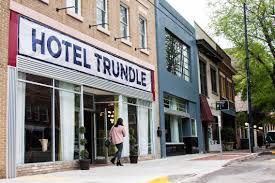 Hotel Trundle
A 41-room hotel located in the middle of the Main Street District.
Check Price
If you are looking for a boutique hotel in Columbia, you won't want to miss Hotel Trundle. This retreat was supported by the local artists, craftspeople and business owners and it combines three historic buildings into one. The staff is known for offering Southern hospitality and thoughtfulness, and the building itself features an eclectic art deco style.
This hotel proudly offers locally made amenities whenever possible. Their evening turn-down service features local treats, and the toiletries are by Davines MOMO. Each room includes high-speed WiFi, robes and slippers, a mini-fridge and microwave, and a Keurig coffeemaker. The hotel offers rooms for just a few nights and suites for extended stays. There are also options for those who want to host parties and gatherings in a unique space.
Hotel Trundle Key Features:
Locally sourced amenities
Located in a historic building
Excellent customer service
Evening turn-down service
Fridge, microwave, and coffeemaker in each room
Extended stay options
Who Should Look for a Hotel in Columbia, SC
If you are traveling to the Columbia area, it is wise to look for a hotel that will meet your needs at least a few weeks in advance. With that being said, there are plenty of hotels available even on short notice! Families, business travelers, and groups often enjoy traveling to this city. Those who are coming with pets should look for a pet-friendly hotel (see below) as soon as they know they are coming so they will be sure to find an appropriate place to stay with their four-footed family member. If you are attending a convention in Columbia or if you hope to visit USC, staying in a Columbia-area hotel will likely be your best bet.
If you find yourself traveling across the states, take a look at Modern Mansions: Must-See Homes On Your Next American Travel Excursion for some more location options.
Hilton Columbia Center Hotel
An excellent location and all of the amenities you'd expect from Hilton make this a perfect pick for your trip to Columbia, SC.
Check Price
Important Features to Consider
There are several things to keep in mind when choosing a hotel in Columbia, South Carolina. Here are some features to consider when making your decision about where to stay.
Amenities. Think about whether it is important for you to have access to a pool, a business center, a fitness area, a full kitchen, a free breakfast, and so on, then look for a hotel with those specific amenities.
Location. Will you be going to meetings at the convention center? Visiting the University of South Carolina? Hoping to check out the nightlife? Will you have a car or will you depend on public transportation or walking? These are all questions that you need to think about so you can determine where you should stay within the city.
Room styles. Do you need one king-sized bed, or would two queens meet your needs more effectively? Some hotels include a pull-out sofa or will allow for a roll-away bed or a crib. Consider the configuration that would best suit you and your travel companions.
Reviews. The hotel website will not mention if there is construction nearby, if the rooms smell like mildew, or if the area surrounding the hotel looks sketchy. That is where reviews come in. Before you book, look carefully at the reviews to see if there are any common issues that come up again and again.
Frequently Asked Questions
What is the best area to stay in Columbia, SC?
That really depends on what you hope to do while you are there. If you want to visit the University of South Carolina and take advantage of the city amenities, you'll want to look for a downtown hotel. In that area, you might choose to stay more to the west, near the Vista Commons if you want to enjoy shopping, or the southern part that is closer to the University. There is also the area around the Columbia Metropolitan Convention Center that is popular among business travelers.
What airport do you fly into for Columbia, SC?
The Columbia Metropolitan Airport (CAE) is seven miles from the center of Columbia and would be the closest airport. Other airports within two hours' driving distance include Charleston International Airport and Florence Regional Airport.
Is Columbia, SC expensive?
The cost of living in Columbia, SC is about 20 percent higher than the average cost of living in the United States. Still, this is relative; if you are coming from the northeast or the west coast, you will likely find Columbia to be less expensive than where you live. The prices will be roughly comparable to other cities of its size in terms of things that tourists and business travelers will probably be doing.
Is downtown Columbia, SC safe?
Most of the touristy and business areas in Columbia are safe during the day. There are some pockets where drug use is more common, particularly at night, and it is wise to avoid these areas. Your hotel's concierge will be able to advise you if there are any areas that you should avoid after dark. In general, using good travel sense, staying aware of your surroundings, and sticking to well-inhabited areas are all good practices to use in any city, including Columbia.
Other Columbia, SC Hotels We Reviewed
Hilton Columbia Center Hotel
An excellent location and all of the amenities you'd expect from Hilton make this a perfect pick for your trip to Columbia, SC.
Check Price
In addition to the hotels that made our top 5 list, we also looked at 20 other hotels. These didn't make our top spots, but they are all still good choices for people traveling to the city for various reasons. We've categorized them for ease and have included the information you'll need to compare them with each listing.
Family Hotels
Baymont by Wyndham Columbia Fort Jackson
This family-friendly hotel is located near the Riverbank Zoo, making it a great choice if you have animal-loving little ones. You will enjoy the pool, and rollaway beds are available.
Key Features:
Business center
Over-sized rooms available
Free breakfast
Best Western Plus Columbia North East
This economical hotel has a refrigerator and microwave in each room, which is so convenient for families. A guest laundry facility is available, as is a fitness center and a seasonal pool.
Key Features:
Business center
High-speed WiFi
Free breakfast
Homewood Suites by Hilton Columbia
A full kitchen as well as a full hot breakfast make this hotel super convenient for families with children. It is close to the downtown business area, shopping malls, and the zoo.
Key Features:
Separate living and sleeping areas
Complimentary grocery shopping service
Free WiFi
Residence Inn Columbia Northeast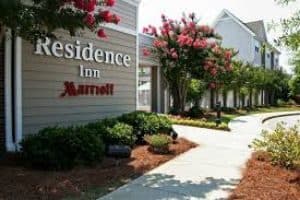 These suites have a kitchenette to make feeding little ones extra convenient. In addition, there's a free hot breakfast and a separate working area so you don't keep the kids awake.
Key Features:
Free internet
One- and two-bedroom suites available
Fitness center
Springhill Suites Columbia Downtown
You'll be within walking distance to the action of The Vista, which is filled with boutique shopping and many dining options. The rooms are large and the indoor pool is open all year long.
Key Features:
Fitness center
Business center
Free breakfast
This all-suite hotel offers free internet and a free breakfast. There's a heated indoor pool for tiring out children all year long and on-site guest laundry for the ultimate in convenience.
Key Features:
Fitness center
Full kitchens in rooms
Complimentary breakfast
Boutique Hotels
Stay in one of the unique, gorgeously appointed rooms, each with its own en suite bathroom, as you enjoy a true "inn" experience. This inn provides a free continental breakfast and WiFi.
Key Features:
8 guest rooms
Perfect for hosting events
Located in the historic downtown district
Located in the historic midtown district, this hotel has been a part of history since before the Civil War. There are five unique rooms and you will enjoy a full breakfast, too.
Key Features:
Historical theme
Private bathrooms with whirlpool tubs
High-speed internet
Located on the campus of USC, this boutique hotel offers the elegance of Southern charm along with the modern amenities today's travelers are looking for like a business center and meeting space.
Key Features:
Laundry facilities
Free WiFi
Fitness center
Pet-Friendly Hotels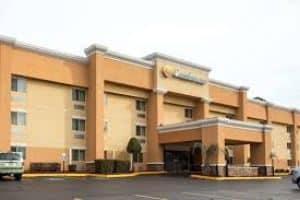 This pet-friendly hotel offers plenty of amenities for human visitors, too, including free WiFi, an airport shuttle, a fitness center, and an outdoor pool.
Key Features:
Microwave and refrigerator
Work desk in each room
Free hot breakfast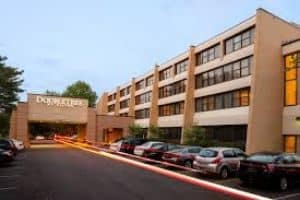 Located at the crossroads of I-20 and I-26, this convenient hotel is happy to host both you and your pet. They have cookies waiting for you and have suites and an on-site restaurant available.
Key Features:
Fitness center
Outdoor pool
Free high-speed internet
Holiday Inn & Suites – Columbia Airport
If you and your pet are concerned with the environment, this might be the hotel for you. They are very eco-friendly and meet LEED Gold Certification standards with their rainwater harvesting and recycled poolside chairs.
Key Features:
Saltwater filtered pool
24-hour business center
Free WiFi
La Quinta Inn & Suites – Columbia Ft. Jackson
Comfortable guest rooms, an outdoor pool, a fitness center, and free breakfast make this pet-friendly hotel a great choice for someone staying in the Northeast Columbia area.
Key Features:
Easy access to city's top attractions
Free breakfast
Seasonal outdoor pool
TownePlace Suites Columbia Southeast
This all-suite hotel offers studio, one-bedroom, and two-bedroom suites for you and your pet. Visitors get a free hot breakfast and can cook their lunches or dinners on a Weber grill if they choose to.
Key Features:
Full kitchens
Custom closets
Fitness center
Business Hotels
Country Inn & Suites by Radisson
Free high-speed WiFi and a free breakfast gets you off to a great start before your meeting. Book a two-bedroom apartment if you need extra room to spread out while you work.
Key Features:
Fitness center
Indoor pool
Free newspaper daily
Courtyard Columbia Downtown at USC
With plenty of meeting space, free WiFi, and a fitness center, this conveniently located hotel will keep you in shape and near everything you need for a productive workday or week.
Key Features:
Nice downtown location
Free parking
Lots of dining options
Embassy Suites by Hilton Columbia Greystone
A stress-free business trip can be yours with an airport shuttle, spacious two-room suites, free WiFi, and a 24-hour business center. There's also an indoor pool and a fitness center to help you stay in shape.
Key Features:
$8 parking
All-suite hotel
Fridge and microwave in each room
Hampton Inn Columbia – Downtown Historic District
This hotel is adjacent to the Columbia Metropolitan Convention Center, making it an ideal choice if you are attending a conference or meetings. It has a business center and a free hot breakfast.
Key Features:
Breakfast or "on the go" pack available
Gym/fitness center
Free WiFi
Microtel Inn & Suites by Wyndham Columbia Fort Jackson
If you are looking for meeting space as well as a place to stay for your business function, this hotel has space for 25 attendees. A business center and free WiFi make it a convenient place to work.
Key Features:
Free breakfast
Laundry facilities
Free parking
Sheraton Columbia Downtown Hotel
Enjoy complimentary WiFi and wired internet in your room as well as concierge service and a fitness center. A whirlpool tub and various dining options make this hotel a relaxing oasis for business travelers.
Key Features:
Full-service business center
Room service
Pet-friendly