Are you traveling to Minneapolis, MN, the larger of the Twin Cities? If so, it's important that you find a hotel that will meet your needs. Whether you are going on business or for pleasure, with young children, with your pet, or with your sweetheart, there are many hotels in the region that might suit your needs.
We have looked at dozens of these hotels in order to find you the cream of the crop. We've considered value, how travelers felt about them, whether they accept pets, whether they provide breakfast, and many other features and amenities.
The Grand Hotel Minneapolis
You'll be in the heart of the entertainment and business district with all of the amenities you could want.
Check Price
The Grand Hotel Minneapolis is our top pick for all travelers. It is chock-full of amenities including a fitness center, a concierge, room service, and an on-site restaurant. You can book meetings or even your wedding in its abundant space. You are an air-conditioned sky walk away from the convention center and steps away from the bustling downtown when you stay in this hotel.
Best Hotels in Minneapolis, MN
*Ratings are from Google Reviews at the time of publication and might change.
Our Top Pick: The Grand Hotel Minneapolis
The Grand Hotel Minneapolis made our top spot. Whether you are traveling for business or pleasure, this Hyatt brand hotel has you covered. If you need to get to the Minneapolis Convention Center, there's no need to brave the cold (or the heat); instead, simply walk across the climate-controlled Skyway bridge. Those in the city to experience the hustle and bustle of downtown will find that they are in a perfect location to do so. Target Field and the U.S. Bank Stadium are in close proximity for sports fans.
With 140 rooms and suites, there's plenty of room for you, your family, and your guests. Choose a suite with a separate living area, an elegantly appointed room, or a luxurious 3,500-square foot living area that includes a fireplace, a grand piano, and a deep soaking tub.
Amenities include a minibar and mini fridge in the rooms, a fitness center, a business center, meeting facilities, a lounge, and 24-hour room service.
The Grand Hotel Minneapolis Key Features:
Skyway bridge to the convention center
Close to downtown and sports stadiums
140 rooms and suites
Mini fridge and minibar in room
Fitness center
Business center
Meeting facilities
Room service
Our Runner Up Pick: West Minneapolis – The Foshay
West Minneapolis - The Foshay
Experience uncommon luxury in an historic downtown location.
Check Price
Our runner-up pick for hotels in Minneapolis is the West Minneapolis – The Foshay. If you are looking for luxury, this is the choice for you. Located in the heart of the historic downtown, the Foshay blends Art Deco with modern urban luxury. The rooms are large and boldly decorated, and you'll love the views of the city from the 360-degree 30th-floor observation deck.
The hotel is pet-friendly; you can bring up to one pet for an additional fee. There's a separate tub and shower and bathrobes available to use. The rooms will accommodate a roll-away bed, which makes travel convenient for families. If you are staying in shape, you'll enjoy the fitness center, which includes complementary yoga and fitness classes. There are several on-site dining options available, including a steakhouse, a bar, and room service.
West Minneapolis – The Foshay Key Features:
Modern Art Deco style
Excellent downtown location
Large rooms
30th floor observation deck
Pet-friendly
Fitness center
On-site dining options
Best Budget Pick: Hampton Inn & Suites Minneapolis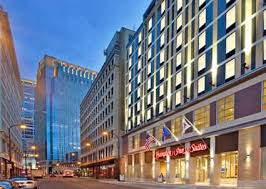 Hampton Inn & Suites Minneapolis
Stay close to sport venues and the university without breaking the budget.
Check Price
Our budget pick is the Hampton Inn & Suites Minneapolis. The hotel is located across the street from the University of Minnesota – Twin Cities Campus and also across from a Green Line rail station, allowing you easy access to all that the city has to offer. The hotel is described as clean and comfortable, so if you are looking for pleasant accommodations at an economical price, this just might be the hotel for you.
Choose a room with one king bed or two queen beds. You can also book a suite with a separate living area if you want to spread out a bit. There is also a free hot breakfast in the lobby every morning, which makes it easy to get your day off to a good start. Amenities include a fitness center, a heated indoor pool, and a whirlpool. In addition, each room has a mini fridge and a microwave.
Hampton Inn & Suites Minneapolis Key Features:
Close to public transportation
Budget-friendly price
Various room and suite accommodations
Free hot breakfast
Fitness center
Pool and whirlpool
Fridge and microwave in each room
Our Pet-Friendly Pick: Minneapolis Marriott City Center
Minneapolis Marriott City Center
You and your pet can enjoy all that downtown Minneapolis has to offer when you stay here.
Check Price
If you are traveling with Fluffy or Fido, you might want to consider our top pick in the pet-friendly category, which is the Minneapolis Marriott City Center. This hotel will welcome your pets up to 150 lbs per room for a $100 nonrefundable pet fee.
You'll enjoy free WiFi in the public areas (there is a fee for WiFi in your room). Other amenities include valet parking (self-parking is also available), meeting space, a valet laundry service, a concierge, and a full American breakfast (for a fee). There is a 24-hour fitness center, too. This hotel is part of the Skyway system, which means you can get to various buildings without having to face the elements outdoors; this can be very helpful during certain parts of the year in Minneapolis.
Minneapolis Marriott City Center Key Features:
Pet-friendly
Valet parking
Laundry service
Fitness center
Skyway system hotel
Our Boutique Pick: Hotel Ivy
Hotel Ivy
Understated elegance describes this historic district boutique hotel.
Check Price
Hotel Ivy made our top spot among boutique hotels in Minneapolis. Brimming with luxury and elegance, this hotel is an amazing choice for those who want to stay in the heart of downtown while soaking up all of the amenities possible. This is a hotel in Marriott's luxury collection. History buffs will enjoy knowing that the hotel's tower was added to the National Register of Historic Places in 1986.
Your concierge is an expert on the city and is available 24 hours per day to help you with whatever you need while on your trip to Minneapolis. Pets are welcome, so feel free to bring along your dog or cat. There is a new fitness center and a whirlpool. Golf facilities are located a short distance away. Choose from a variety of rooms, including a room with two queen beds, a soaking tub, and custom armoires and the Penthouse Suite, with nearly 2,000 square feet of living space plus a private rooftop balcony.
Hotel Ivy Key Features:
Excellent downtown location
Part of the Skyway hotel system
Pet-friendly
Fitness center
Whirlpool
A variety of rooms and suites available
Who Should Book a Hotel in Minneapolis, MN
Anyone traveling to Minneapolis should consider booking a hotel in advance. This would include families traveling with children and/or pets, couples on a romantic vacation, friends looking for a fun weekend away, and business travelers. Because hotels might book up quickly when there are events taking place in Minneapolis, it is prudent to book a hotel as soon as your dates have been finalized.
If you find yourself traveling across the states, take a look at Modern Mansions: Must-See Homes On Your Next American Travel Excursion for some more location options.
The Grand Hotel Minneapolis
You'll be in the heart of the entertainment and business district with all of the amenities you could want.
Check Price
Important Features to Consider
There are some important features that you will want to look for when you are searching for a hotel in Minneapolis, Minnesota. Here are some things to keep in mind.
Location. Are you planning on spending your time at the Mall of America? Are you only spending one night because you have an overnight layover in the city? Perhaps you are attending a business function at the convention center. Consider where you will be spending most of your time and choose a hotel that is convenient to where you will be. If you will be driving in or will have access to a car, you might choose to stay a bit further away from the downtown area, but if you are counting on public transportation, be sure that you are staying in a convenient area.
Amenities. If you have your heart set on an indoor pool, if you will need to make use of a business center, or if you are traveling with a budget-minded group that would like to take advantage of a free breakfast, be sure to look at the list of amenities so you are getting the services you want and need.
Cost. Hotels range from very simple, budget-friendly hotels to luxurious hotels that have a concierge who will anticipate your every need. Think about what you need and then compare the prices so you can feel confident that you are getting a good deal.
Frequently Asked Questions
What's the best area to stay in Minneapolis?
That really depends on what you will be doing while visiting the area. Some popular places include the downtown area, the area near the Mall of America, and the area right near the airport. If you are flying in very late or out very early, you might consider an airport hotel at least for that night. If you are attending a business function at a convention center, it will be most convenient to stay close by.
What airport do you fly into for Minneapolis?
The closest airport is the Minneapolis-St. Paul International Airport, which is located about 11 miles from downtown Minneapolis. Many hotels offer free shuttles to and from the airport. Another option is to rent a car to drive into the city.
Is Minneapolis expensive?
Minneapolis is slightly more expensive than average when you consider cities of its size. Still, it is markedly less expensive than cities like Chicago, Los Angeles, and New York.
Is downtown Minneapolis safe?
As a whole, Minneapolis is a fairly safe city. If you go to the northern part of the city, you might be at greater risk of becoming a victim of crime. Downtown Minneapolis also has areas that are not as safe as those in the southern part of the city. Be sure to stay aware of your surroundings and use caution in traveling through the area on foot, particularly at night. Take common big-city precautions such as not traveling with valuables if possible, keeping your phone put away when you are walking through crowds, and, if possible, traveling with someone else if you need to be out at night or in less crowded areas. You can also ask your concierge or the staff at your hotel which areas to avoid, as they are familiar with the area and will be able to advise you.
Other Minneapolis, Minnesota Hotels We Reviewed
The Grand Hotel Minneapolis
You'll be in the heart of the entertainment and business district with all of the amenities you could want.
Check Price
In addition to the hotels that made our top five list above, we also reviewed 20 other hotels. These didn't make our top picks, but they are still great options no matter why you are going to Minneapolis. They are divided by category and you will find the information you need to compare them in the listings below.
Pet-Friendly Hotels in Minneapolis
This pet-friendly hotel connect by the Skyway system to shopping, dining, and business venues. There is a fitness center, a sauna, and an indoor pool for your enjoyment.
Key Features:
Indoor pool
Fitness center
Newly renovated lobby
Homewood Suites Edina Minneapolis
In this pet-friendly hotel, you will be close to everything, from the airport to downtown to the Mall of America. It welcomes dogs who are under 50 lbs with a pet deposit.
Key Features:
Fitness center
Fully equipped kitchens
Free hot breakfast
Intercontinental Minneapolis St Paul Airport
This is the only hotel connected directly to the airport, so if you and your pet have an overnight stopover or you simply enjoy the convenience of staying at the airport, this is the one for you.
Key Features:
20 minutes to downtown Minneapolis
Thermal pool
Meeting space
Marquette Hotel Curio Collection
This downtown hotel is connected by Skyway to various locations for your convenience. They accept pets up to 75 lbs with a nonrefundable deposit.
Key Features:
Spacious guest rooms
Suites available
Restaurant on site
Radisson Red Minneapolis Downtown
Four-legged friends are always welcome at this chic downtown hotel. Use the RED app to order your food without having to leave your room, or enjoy all that the downtown area offers.
Key Features:
Meeting space
Free WiFi
Skyway connection
Boutique Hotels in Minneapolis
This bed and breakfast is situated in the heart of downtown and located in a luxurious and historical mansion. You'll have the option for a private bathroom and access to the spa.
Key Features:
Spa available
Elegantly appointed
Located in downtown Minneapolis
This hotel prides itself on offering the experience of "hygge," which is a Danish word meaning cozy comfort. It is pet-friendly, can accommodate your wedding, and is in the heart of downtown.
Key Features:
Free WiFi and Alexa
Suites and penthouse available
Scandinavian decor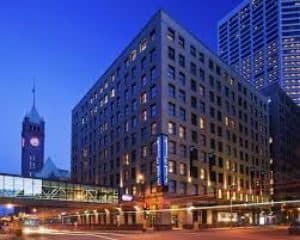 In this Marriott brand hotel, you'll experience the finest amenities, from rainfall showers to a pillowtop mattress. It is located in the center of downtown for your convenience and enjoyment.
Key Features:
Fitness center
Free internet
Pet-friendly
Formerly a farm implement warehouse, this hotel is a piece of history located in the historic district of downtown Minneapolis. Enjoy exceptional service and regionally inspired dining options.
Key Features:
Mix of rooms and suites available
Located in the North Loop
Restaurant on site
Enjoy the original art that decorates each room in this unique hotel. The walk-in rain showers and spa-inspired bath tubs will give you a cozy refuge after you are done exploring the city.
Key Features:
Fitness center
Pet-friendly
Meeting space
Family Hotels in Minneapolis
This hotel is located just minutes from both the airport and the Mall of America. It includes a free shuttle, free WiFi, and a huge saline pool (the largest in the area, in fact!).
Key Features:
Dry sauna
Meeting space
Close to the blue line metro
Fairfield Inn & Suites Minneapolis
Keep your kids entertained with this hotel's close proximity to the Mall of America (including Nickelodeon Universe & Sea Life Aquarium) as well as the pool and easy access to downtown.
Key Features:
Free breakfast
Shuttle bus service
Fitness center
Book either a well-appointed room or a family-friendly suite in this hotel, which is situated near the Mall of America. An indoor saline pool and an on-site restaurant add to the relaxation and convenience.
Key Features:
Free internet
Skyway to mall
Blu Kids Club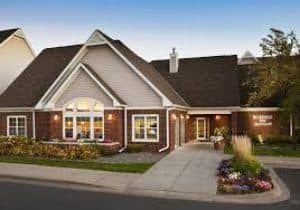 Your stay in Minneapolis will be very convenient with a full kitchen and a separate living area in your suite. You'll be near the zoo, the Mall of America, and other attractions.
Key Features:
Free shuttle service
Pet friendly
Free hot breakfast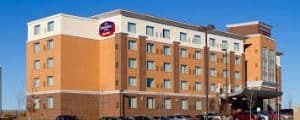 This all-suite hotel is perfect for families who would like extra room to spread out. Start off with a free breakfast and end with a snack in the lounge.
Key Features:
Fitness center
Pool
Free breakfast
Business Hotels in Minneapolis
This sophisticated, upscale hotel has everything you need for a successful business retreat, from free internet to meeting space. A fitness room and mini-fridge will keep you comfortable and in good shape.
Key Features:
Downtown location
European breakfast
Meeting rooms available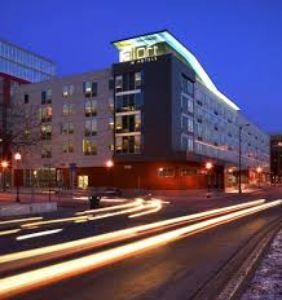 This downtown hotel includes free WiFi and a charging station to keep you up and running while you're on your business trip. It has great relaxation options, too!
Key Features:
Indoor pool
Meeting event space
Fitness center
Named as one of the top luxury hotels in 2017, you will enjoy comfort and luxury while getting your work done. It uses the Skyway system to deliver you comfortably to wherever you need to go.
Key Features:
Free WiFi
Spa services available
Spacious rooms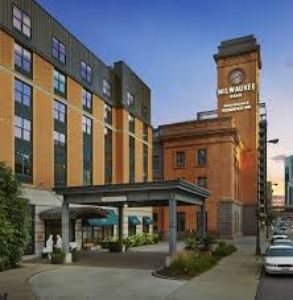 Centrally located in the downtown core, this hotel is perfect no matter what your business needs. It is located close to many Fortune 500 companies for your convenience.
Key Features:
Fitness center
Pool
Free WiFi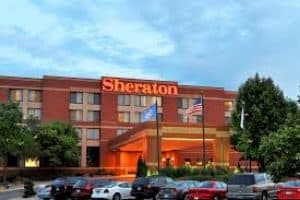 Spacious rooms and suites make it possible for you to both relax and complete your projects or attend your meetings at this hotel. It is located in South Minneapolis near Uptown.
Key Features:
Fitness center with pool
Pet-friendly
Parking available